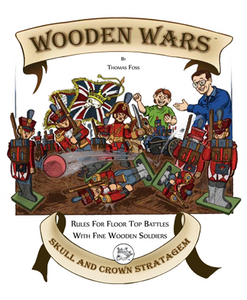 Harkening back to the days of H.G. Wells, Wooden Wars is a visual and visceral action battle game where tactics, good hand-eye coordination and a bit of luck are key! Players command armies of sturdy wooden soldiers against each other, using the floor as the battlefield and small rubber balls as projectiles.

Victory is achieved by knocking over all the opposing sides' forces by firing upon them, with melee action, or by capturing a key objective such as the enemy's flag or a star fort made of blocks.

The game is elegant and simple. Units can either move or fire. Firing consists of tossing small rubber balls at the opponent's forces to knock them over. If a soldier is down, he's out of the fight—it's as simple as that!

This 23-page rulebook contains all the rules necessary to play Wooden Wars, including basic and advanced rules, sample scenarios, and assembly instructions for Wooden Wars models.