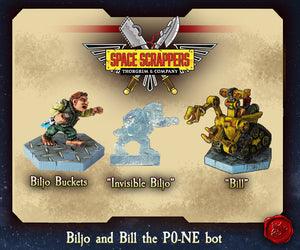 Biljo Buckets was a janitor on an Imperial Heavy Cruiser. who fell into a reclimator, where he found a "jokero" ring of cloaking. After being caught pilfering stores from Thorngim's ship, it was decided he would be "hired" as their burglar and scout.  During his travels in "finding things" he befriended a scrap bot, whom he named "Bill" 
One metal cast and one resin cast model of Biljo, and one metal cast model of Bill the bot. 
Miniatures do not come supplied with bases.