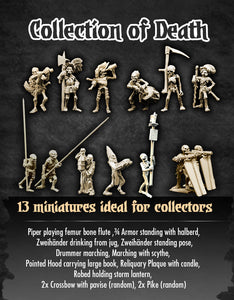 This set includes 13 models, 1 of each type of white metal Renaissance skeletons listed below. These are ideal for collectors and for use in games like D&D, Mordheim, Frostgrave, and Kings of War.

This pledge level includes:
Piper playing Femur Bone Flute
¾ Armor Standing with Halberd
Zweihänder Drinking from Jug
Zweihänder Standing pose
Drummer Marching
Marching with Scythe
Pointed Hood carrying Large Book
Reliquary Plaque with Candle
Robed holding Storm Lantern
2x Crossbow with Pavise (random poses)
2x Pike (random poses)
 All models are 28mm white metal castings, come unpainted, and are not intended for children under the age of 14.