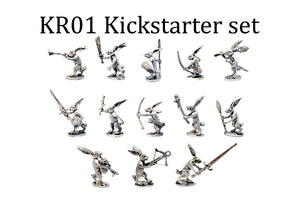 From the original Kickstarter "Leap" set, plus the additional 3 add-on models for a full set of 13 models: 1 of each type listed below. 
(2) Archer variations

(2) Club variations
(3) Spear variations
(3) Sword variations
(2) Musician variations - Horn, Pipes
Crossbow
Mace
These are ideal for collectors, and for use in games like D&D, Frostgrave, Dragon Rampant, Mordheim, etc. Miniatures measure approx 25mm from foot to top of ears.

All models are white metal castings, come unpainted, and are not intended for children under the age of 14.