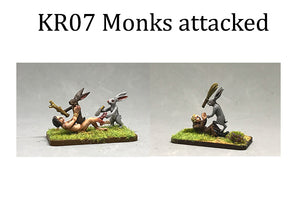 Rabbits doing what rabbits do best! Assaulting poor monks who can't draw rabbit ears properly! This set comes with the following miniatures :
Monk beaten by rabbit with Flail (single cast, 2 figures)
Monk being flayed and beaten by rabbits (multi-piece set), includes following:
Rabbit with Stick
Rabbit with Knife
All models are white metal castings, come unpainted, and are not intended for children under the age of 14.