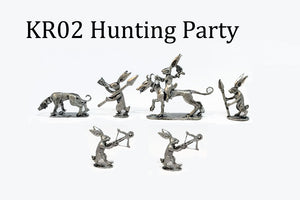 The Quarry is afoot! This Killer Rabbits hunting party is ready to track down errant monks or anything else you want them to! Rabbit Hunting Party set consists of 5 foot and one mounted miniature:
Rabbit mounted on Hound, with Hunting Snail
Rabbit blowing Horn with Spear
Hunting Hound
(2) Rabbit with Crossbows
Rabbit with Spear
All models are white metal castings, come unpainted, and are not intended for children under the age of 14.