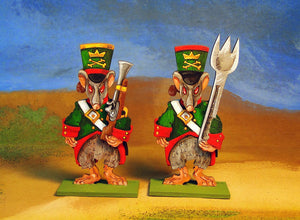 Towering over wooden human soldiers at 100 mm from base to top of his jaunty shako, the Rat King's soldiers are tough, fast and fearsome with a dessert fork!

This set contains parts to create 2 Wooden Wars Rat King soldiers; each comes with the options for a blunderbuss or dessert fork arm.
All models come unassembled and unpainted, and are not intended for children under the age of 14.