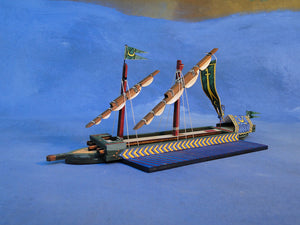 The Lanterna or "great galley" was an oversized variant of the standard galley. Measuring up to 180 feet long, and sporting 2-3 masts, they were slow ships and depending on overall size needed 200+ oarsmen to row. Lanternas were built for war transporting 400 soldiers into battle, and crushing the enemy with a great amount of ordnance in the bow.
Named after the large lanterns mounted on the stern, which were used for signaling and recognition, the Lanterna was most often used as flagships by commanders. Variations of the Lanterna were called "Petronas" in Italian, and "Capitanas" in Spanish.
Each Lanterna Galley model is 1/300th (6mm) scale, measures 185mm from end-to-end and comes with:
a choice of an open or fully covered "arumbada" (front fighting platform)
yardarms with or without furled sails
All models come unassembled and unpainted, and are not intended for children under the age of 14.